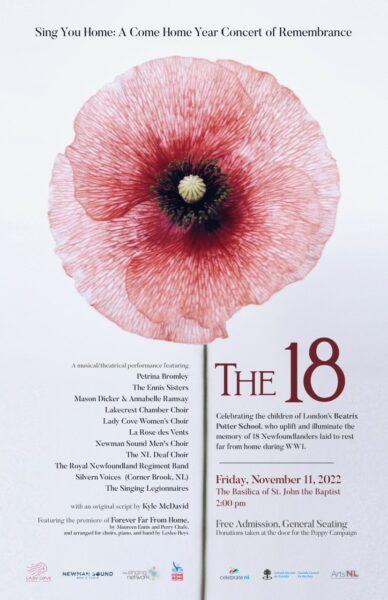 Sing You Home
A Come Home Year Concert of Remembrance
Friday, November 11
The Basilica of St. John the Baptist
2:00pm
Featuring: "The 18": celebrating the children of London's Beatrix Potter School, who uplift and illuminate the memory of 18 Newfoundlanders laid to rest far from home during WWI.

With an original script by Kyle McDavid and the premiere of "Forever Far From Home" by Maureen Ennis and Perry Chafe, arranged by Leslee Heys.
Performances by: Petrina Bromley, The Ennis Sisters, Mason Dicker & Annabelle Ramsay, Lakecrest Chamber Choir, Lady Cove Women's Choir, La Rose des Vents, Newman Sound Men's Choir, The NL Deaf Choir, The Royal Newfoundland Regiment Band, Silvern Voices (Corner Brook, NL), and The Singing Legionnaires.
General Seating | Free Admission
Accepting donations at the door for the Poppy Campaign